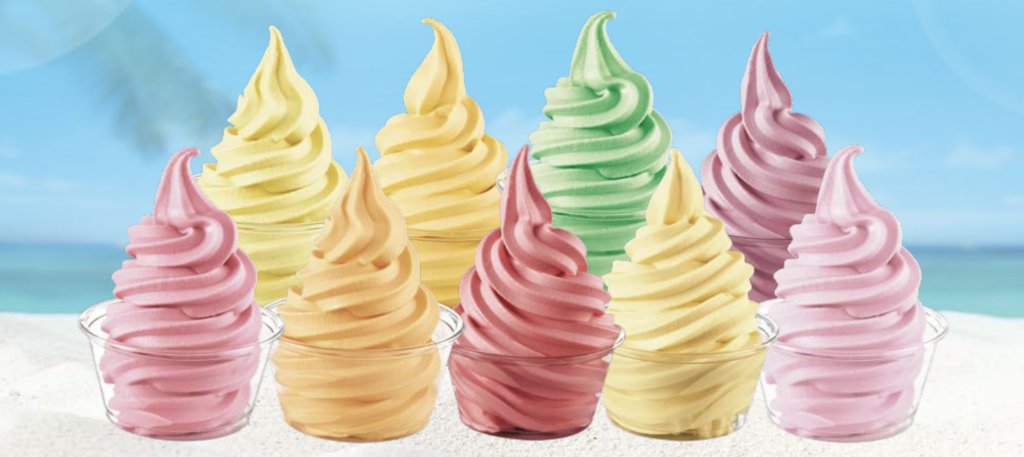 Dole Whip (officially known as DOLE SOFT SERVE) is a frozen dessert that was originally created by the Dole Food Company in the 1980s. The original creator of the frozen treat is said to be John W. "Jack" Morgan, who worked for Dole at the time. It is a non-dairy, soft-serve, fruity-flavored treat that is typically served at theme parks and other tourist destinations. It was first introduced at Disneyland in Anaheim, California, as a refreshing treat that was perfect for hot summer days. It quickly became a favorite among park visitors and has since become a beloved treat at other theme parks, such as Disney World and various locations around the world. The original pineapple flavor is the most well known and is one of the fun experiences at the Dole plantation on the Hawaiian island of Oahu.
The main ingredients in Dole Whip include fruit juice, sugar, and stabilizers. The Dole concoction is dairy, lactose, gluten, artificial color, and cholesterol free! The mixture is manufactured as a powder that must first be mixed with water. It is then frozen and churned in a special soft serve machine to create a creamy, smooth texture. The result is a refreshing, tropical treat that is perfect for hot summer days... or any day of the year that you wish felt like a summer day.
In recent years, Dole Whip has become a popular dessert option, and can be found at many locations outside of theme parks, including restaurants, cafes, and food trucks. The DOLE SOFT SERVE can now be found in 10 difference flavors and they are working on creating more. The current flavors are: Pineapple, Orange, Mango, Raspberry, Strawberry, Pomegranate, Cherry, Lemon, Lime, and Watermelon.
One of the great things about the Dole fruity soft serve is how versatile it is. Besides being delicious right out of the machine and into a cone, there are other ways to enjoy the treat as well. The most famous is the Dole Float made famous in Disney parks - it combines the Dole Whip with fresh pineapple juice to make a truly spectacular treat. However, your imagination is the only thing that limits the combination potential when it comes to these fruity flavors. You can add any number of juices, sodas, bobas, or toppings to create something new and wonderful for yourself or your guests. The soft serve can also be used in slushes, smoothies, and baking!
Next time you have a hankerin for something delicious give Phrozen Soft Serve a call so we can bring some DOLE SOFT SERVE right to your main event.